.
Regular price
Sale price
$69.99
Unit price
per
Sale
Sold out
Are you ready to elevate your hair removal experience? Our Spearmint and Matcha-infused product is perfect for those with sensitive skin, as it effectively reduces redness and rashes with Spearmint, while the Matcha detoxifies and revitalizes your skin, leaving it soft, bright, and hair-free. Transform your home into a luxurious spa with our skin-smoothing formula and indulge in the ultimate self-care experience. But why stop there? Complete your pampering routine with our full kit, which includes all the essentials you need to achieve beautifully smooth skin. Don't let sensitive skin hold you back any longer. Order our Spearmint and Matcha-infused product and full kit today and enjoy a spa day from the comfort of your own home. Say hello to radiant, hair-free skin and goodbye to impurities and discomfort.
Share
View full details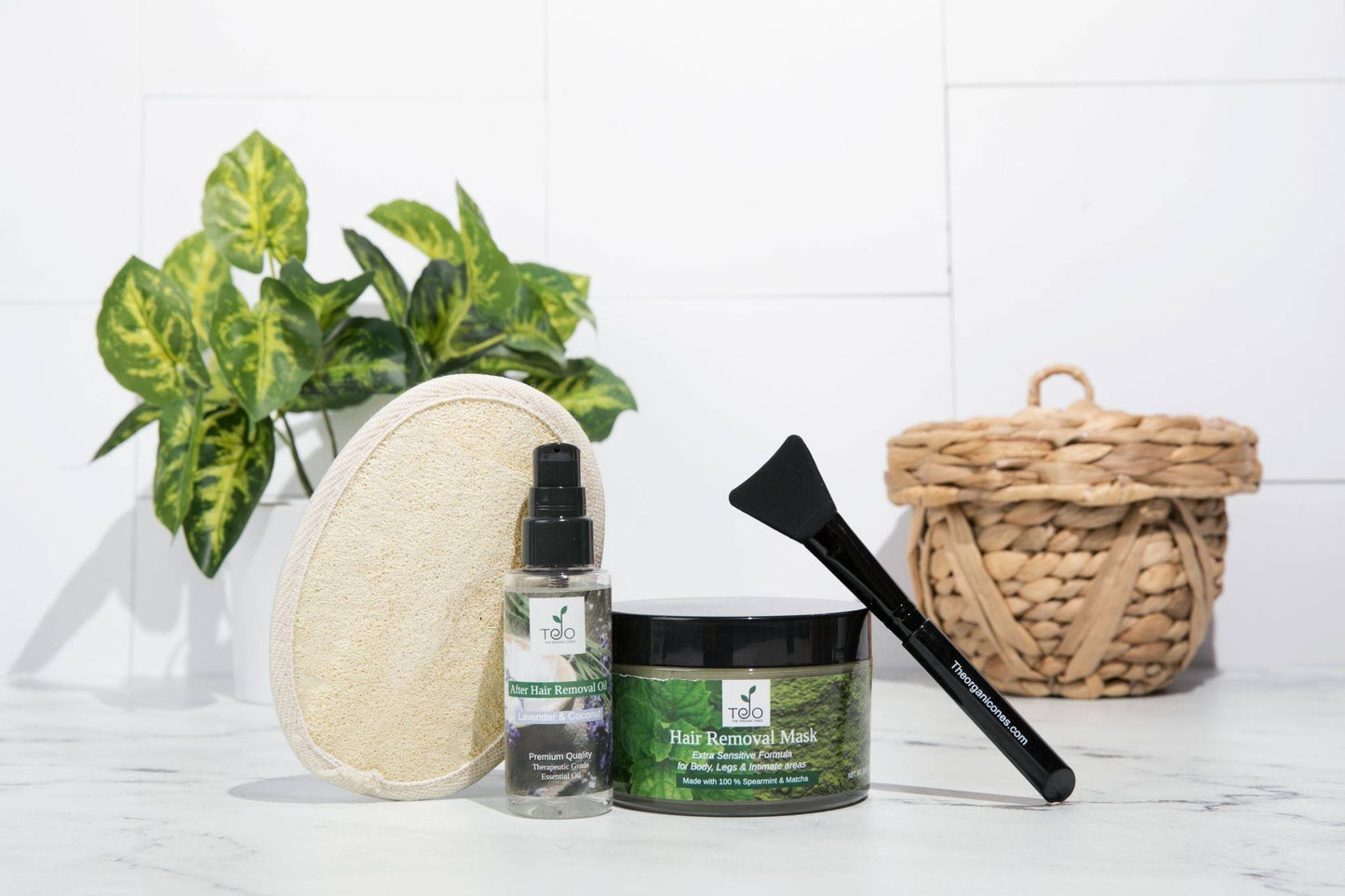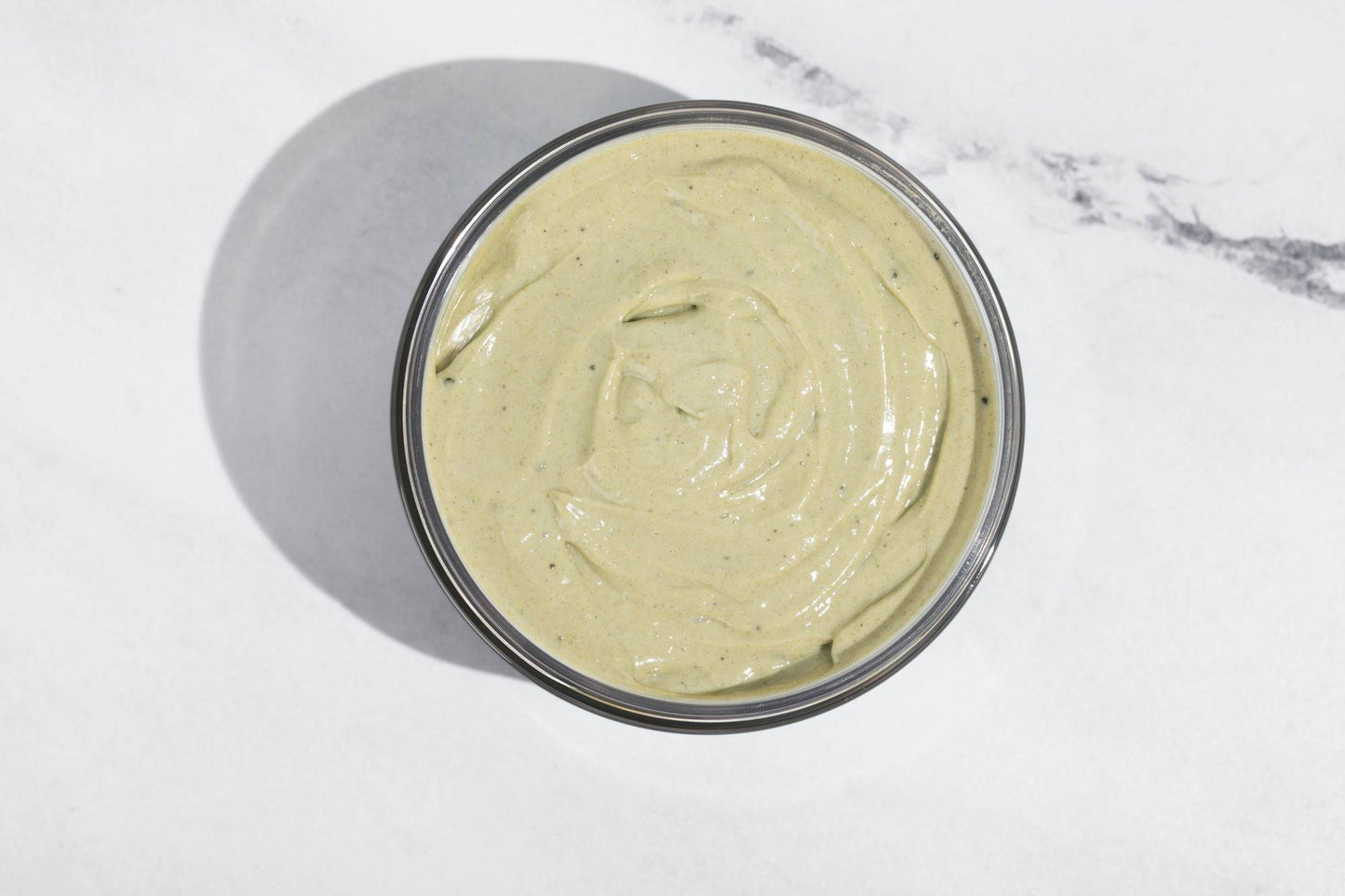 How To use
Step 1

Smooth on a thick, even layer to cover facial hair

Step 2

Leave the mask on for 15-20 minutes and test a small area for hair removal with a wet washcloth. If the hair comes away easily, remove the rest. If the hair is still there, reapply and leave the mask on a bit longer

Step 3

Rinse your skin thoroughly with water to remove the mask completely, and then dry For best results, use the lavender sugar scrub for a smooth glow
Like it
The hair remover works very well. I have very sensitive skin and only had a little irritation but overall I am very happy with my purchase
Pleasantly Surprised
So far day 5 days since I used it and not trying do TMI, I had a bush and baby, gone… I did not use the sponge thing bc I did know what it was for. I just used a warm towel and threw it away.. I have very sensitive skin and so far no flare up or irritation! I love the oil and the protective pink utensil!! As long as I don't have any skin issues; customer for life; I don't do waxes and clippers were getting on my nerves.. I was smooth!
Love it!
15 mins and no more hair! As someone with sensitive under arm skin I was really hesitant but I gave it a try & I'm glad that I did! No overwhelming scent and no irritation!
Worth it 🤞🏽❤️
No irritation, left it on for max time. Happy with results :) I did a second layer 10 mins after the first and it did irritate but that was on me. Deff should've just let the first one sit a min or two longer and it would've done the trick for sure. Highly recommend
Would definitely recommend to leave it longer than what it says on the label. But I loved it, worked perfectly!
10/10 - I Would, FA SHO, RECOMMEND
It works. You made a believer outta me and I'm definitely about to place another order. I think I may have tried to rush the process a little bit because there's still a small area I need to address, but otherwise, this is legit! And so minty and tingly!
Works
I like the mask. I have very sensitive skin so I did have some slight burning sensation at around ten minutes but it does the job.
Just what I been needing!!
After trying several different hair removal methods I can't believe how good this stuff works. I was so skeptical at first. I really can't explain how happy I am about this product. I uses it from the front to the back with no problems at all. I do use the VAJ shield which is great as well. I used to use Nair and it would burn my c section scar, not this, this product doesn't burn at all. Thank you!!
Papaya-Turmeric-Pineapple
People with thicker coarser hair are more likely to be more susceptible to razor bumps and ingrown; this is due to their natural hair texture, which tends to be more curly and coarse. This hair removal mask will give you the closest shave look without having to use a razor. Just apply the mask and wipe the hair away from the skin.